Warning: file_get_contents(http://news.analyticsweek.com/tw/newspull.php): failed to open stream: HTTP request failed! in /home3/vishaltao/public_html/mytao/script/includeit.php on line 15
Warning: file_get_contents(http://news.analyticsweek.com/tw/newspull.php): failed to open stream: HTTP request failed! in /home3/vishaltao/public_html/mytao/script/includeit.php on line 15
Warning: file_get_contents(http://news.analyticsweek.com/tw/newspull.php): failed to open stream: HTTP request failed! in /home3/vishaltao/public_html/mytao/script/includeit.php on line 15
[ COVER OF THE WEEK ]

Accuracy Source

[ LOCAL EVENTS & SESSIONS]
[ AnalyticsWeek BYTES]
>> Is Your Data Product Ready for Launch? by analyticsweek
>> Are U.S. Hospitals Delivering a Better Patient Experience? by bobehayes
>> 50 UX Metrics, Methods, & Measurement Articles from 2018 by analyticsweek
[ FEATURED COURSE]
[ FEATURED READ]
[ TIPS & TRICKS OF THE WEEK]
Analytics Strategy that is Startup Compliant
With right tools, capturing data is easy but not being able to handle data could lead to chaos. One of the most reliable startup strategy for adopting data analytics is TUM or The Ultimate Metric. This is the metric that matters the most to your startup. Some advantages of TUM: It answers the most important business question, it cleans up your goals, it inspires innovation and helps you understand the entire quantified business.
[ DATA SCIENCE Q&A]
Q:Given two fair dices, what is the probability of getting scores that sum to 4? to 8?
A: * Total: 36 combinations
* Of these, 3 involve a score of 4: (1,3), (3,1), (2,2)
* So: 3/36=1/12
* Considering a score of 8: (2,6), (3,5), (4,4), (6,2), (5,3)
* So: 5/36

Source
[ VIDEO OF THE WEEK]
@AnalyticsWeek: Big Data Health Informatics for the 21st Century: Gil Alterovitz
Subscribe to Youtube
[ QUOTE OF THE WEEK]
Information is the oil of the 21st century, and analytics is the combustion engine. – Peter Sondergaard
[ PODCAST OF THE WEEK]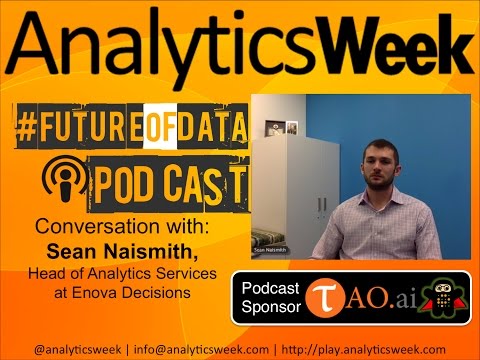 #FutureOfData Podcast: Conversation With Sean Naismith, Enova Decisions
Subscribe
[ FACT OF THE WEEK]
Bad data or poor data quality costs US businesses $600 billion annually.