Warning: file_get_contents(http://news.analyticsweek.com/tw/newspull.php): failed to open stream: HTTP request failed! in /home3/vishaltao/public_html/mytao/script/includeit.php on line 15
Warning: file_get_contents(http://news.analyticsweek.com/tw/newspull.php): failed to open stream: HTTP request failed! in /home3/vishaltao/public_html/mytao/script/includeit.php on line 15
Warning: file_get_contents(http://news.analyticsweek.com/tw/newspull.php): failed to open stream: HTTP request failed! in /home3/vishaltao/public_html/mytao/script/includeit.php on line 15
[ COVER OF THE WEEK ]

Fake data Source

[ LOCAL EVENTS & SESSIONS]
[ AnalyticsWeek BYTES]
>> Are You Evolving Your Analytics? by analyticsweek
>> Meet Us in DC for the 2019 Logi Conference by analyticsweek
>> Big Data Is No Longer Confined to the Big Business Playbook by analyticsweekpick
[ FEATURED COURSE]
Applied Data Science: An Introduction
[ FEATURED READ]
[ TIPS & TRICKS OF THE WEEK]
Fix the Culture, spread awareness to get awareness
Adoption of analytics tools and capabilities has not yet caught up to industry standards. Talent has always been the bottleneck towards achieving the comparative enterprise adoption. One of the primal reason is lack of understanding and knowledge within the stakeholders. To facilitate wider adoption, data analytics leaders, users, and community members needs to step up to create awareness within the organization. An aware organization goes a long way in helping get quick buy-ins and better funding which ultimately leads to faster adoption. So be the voice that you want to hear from leadership.
[ DATA SCIENCE Q&A]
Q:What is the difference between supervised learning and unsupervised learning? Give concrete examples
?
A: * Supervised learning: inferring a function from labeled training data
* Supervised learning: predictor measurements associated with a response measurement; we wish to fit a model that relates both for better understanding the relation between them (inference) or with the aim to accurately predicting the response for future observations (prediction)
* Supervised learning: support vector machines, neural networks, linear regression, logistic regression, extreme gradient boosting
* Supervised learning examples: predict the price of a house based on the are, size.; churn prediction; predict the relevance of search engine results.
* Unsupervised learning: inferring a function to describe hidden structure of unlabeled data
* Unsupervised learning: we lack a response variable that can supervise our analysis
* Unsupervised learning: clustering, principal component analysis, singular value decomposition; identify group of customers
* Unsupervised learning examples: find customer segments; image segmentation; classify US senators by their voting.

Source
[ VIDEO OF THE WEEK]
#BigData @AnalyticsWeek #FutureOfData #Podcast with @Beena_Ammanath, @GE
Subscribe to Youtube
[ QUOTE OF THE WEEK]
The world is one big data problem. – Andrew McAfee
[ PODCAST OF THE WEEK]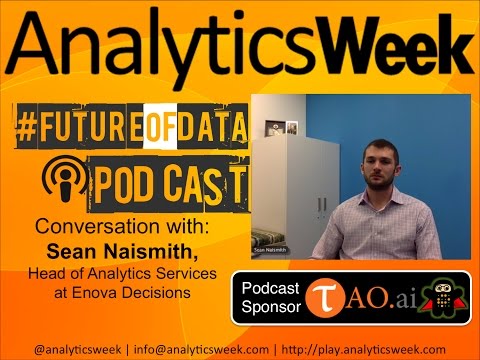 #FutureOfData Podcast: Conversation With Sean Naismith, Enova Decisions
Subscribe
[ FACT OF THE WEEK]
For a typical Fortune 1000 company, just a 10% increase in data accessibility will result in more than $65 million additional net income.