[ COVER OF THE WEEK ]

Conditional Risk Source

[ LOCAL EVENTS & SESSIONS]
[ AnalyticsWeek BYTES]
>> Looking out for Big Data Capital of the World by v1shal
>> It's Official! Talend to Welcome Stitch to the Family! by analyticsweekpick
>> Data Management Rules for Analytics by analyticsweek
[ NEWS BYTES]
>>
Startups aspiring to market like big brands: with Smartech & AI, today they can – YourStory.com Under Prescriptive Analytics
>>
Ecolab Inc (NYSE:ECL) Institutional Investor Sentiment Analysis – The Cardinal Weekly (press release) Under Sentiment Analysis
>>
Data center outsourcing faces a legal test – DatacenterDynamics Under Data Center
[ FEATURED COURSE]
Python for Beginners with Examples
[ FEATURED READ]
The Black Swan: The Impact of the Highly Improbable
[ TIPS & TRICKS OF THE WEEK]
Grow at the speed of collaboration
A research by Cornerstone On Demand pointed out the need for better collaboration within workforce, and data analytics domain is no different. A rapidly changing and growing industry like data analytics is very difficult to catchup by isolated workforce. A good collaborative work-environment facilitate better flow of ideas, improved team dynamics, rapid learning, and increasing ability to cut through the noise. So, embrace collaborative team dynamics.
[ DATA SCIENCE Q&A]
Q:How do you test whether a new credit risk scoring model works?
A: * Test on a holdout set
* Kolmogorov-Smirnov test
Kolmogorov-Smirnov test:
– Non-parametric test
– Compare a sample with a reference probability distribution or compare two samples
– Quantifies a distance between the empirical distribution function of the sample and the cumulative distribution function of the reference distribution
– Or between the empirical distribution functions of two samples
– Null hypothesis (two-samples test): samples are drawn from the same distribution
– Can be modified as a goodness of fit test
– In our case: cumulative percentages of good, cumulative percentages of bad

Source
[ VIDEO OF THE WEEK]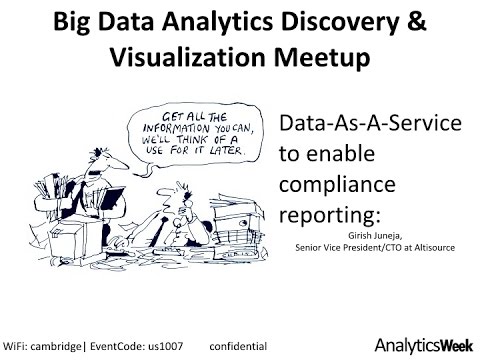 Data-As-A-Service (#DAAS) to enable compliance reporting
Subscribe to Youtube
[ QUOTE OF THE WEEK]
You can have data without information, but you cannot have information without data. – Daniel Keys Moran
[ PODCAST OF THE WEEK]
Solving #FutureOfOrgs with #Detonate mindset (by @steven_goldbach & @geofftuff) #FutureOfData #Podcast
Subscribe
[ FACT OF THE WEEK]
2.7 Zetabytes of data exist in the digital universe today.