[ COVER OF THE WEEK ]

Statistics Source

[ LOCAL EVENTS & SESSIONS]
[ AnalyticsWeek BYTES]
>> Understand Your Company Ecosystem to Improve Company Performance by bobehayes
>> Tour de France's big data experiment is… getting there by analyticsweekpick
>> When shouldn't you rely on data analytics – The danger of trusting polls by checcaaird
[ NEWS BYTES]
>>
How artificial intelligence is transforming the customer experience … – Tnooz Under Customer Experience
>>
Child's Play: VTech Settles FTC Lawsuit Over Data Security in … – Lexology Under Data Security
>>
Data Scientist – KAR | Built In Chicago – Built In Chicago Under Data Scientist
[ FEATURED COURSE]
[ FEATURED READ]
The Master Algorithm: How the Quest for the Ultimate Learning Machine Will Remake Our World
[ TIPS & TRICKS OF THE WEEK]
Analytics Strategy that is Startup Compliant
With right tools, capturing data is easy but not being able to handle data could lead to chaos. One of the most reliable startup strategy for adopting data analytics is TUM or The Ultimate Metric. This is the metric that matters the most to your startup. Some advantages of TUM: It answers the most important business question, it cleans up your goals, it inspires innovation and helps you understand the entire quantified business.
[ DATA SCIENCE Q&A]
Q:What is: collaborative filtering, n-grams, cosine distance?
A: Collaborative filtering:
– Technique used by some recommender systems
– Filtering for information or patterns using techniques involving collaboration of multiple agents: viewpoints, data sources.
1. A user expresses his/her preferences by rating items (movies, CDs.)
2. The system matches this user's ratings against other users' and finds people with most similar tastes
3. With similar users, the system recommends items that the similar users have rated highly but not yet being rated by this user
n-grams:
– Contiguous sequence of n items from a given sequence of text or speech
– 'Andrew is a talented data scientist"
– Bi-gram: 'Andrew is", 'is a", 'a talented".
– Tri-grams: 'Andrew is a", 'is a talented", 'a talented data".
– An n-gram model models sequences using statistical properties of n-grams; see: Shannon Game
– More concisely, n-gram model: P(Xi|Xi?(n?1)…Xi?1): Markov model
– N-gram model: each word depends only on the n?1 last words
Issues:
– when facing infrequent n-grams
– solution: smooth the probability distributions by assigning non-zero probabilities to unseen words or n-grams
– Methods: Good-Turing, Backoff, Kneser-Kney smoothing
Cosine distance:
– How similar are two documents?
– Perfect similarity/agreement: 1
– No agreement : 0 (orthogonality)
– Measures the orientation, not magnitude
Given two vectors A and B representing word frequencies:
cosine-similarity(A,B)=?A,B?/||A||?||B||

Source
[ VIDEO OF THE WEEK]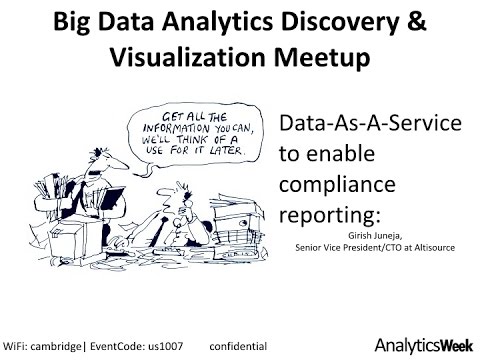 Data-As-A-Service (#DAAS) to enable compliance reporting
Subscribe to Youtube
[ QUOTE OF THE WEEK]
Information is the oil of the 21st century, and analytics is the combustion engine. – Peter Sondergaard
[ PODCAST OF THE WEEK]
@EdwardBoudrot / @Optum on #DesignThinking & #DataDriven Products #FutureOfData #Podcast
Subscribe
[ FACT OF THE WEEK]
More than 5 billion people are calling, texting, tweeting and browsing on mobile phones worldwide.