[ COVER OF THE WEEK ]

Accuracy Source

[ NEWS BYTES]
>>
HP stealthily installs new spyware called HP Touchpoint Analytics Client – Computerworld Under Analytics
>>
Customer segmentation with big data at hand – Business MattersBusiness Matters Under Prescriptive Analytics
>>
5 ways analytics can help health systems optimize their collection strategies – Becker's Hospital Review Under Analytics
[ FEATURED COURSE]
[ FEATURED READ]
Data Science from Scratch: First Principles with Python
[ TIPS & TRICKS OF THE WEEK]
Data aids, not replace judgement
Data is a tool and means to help build a consensus to facilitate human decision-making but not replace it. Analysis converts data into information, information via context leads to insight. Insights lead to decision making which ultimately leads to outcomes that brings value. So, data is just the start, context and intuition plays a role.
[ DATA SCIENCE Q&A]
Q:Is it better to spend 5 days developing a 90% accurate solution, or 10 days for 100% accuracy? Depends on the context?
A: * "premature optimization is the root of all evils"
* At the beginning: quick-and-dirty model is better
* Optimization later
Other answer:
– Depends on the context
– Is error acceptable? Fraud detection, quality assurance

Source
[ VIDEO OF THE WEEK]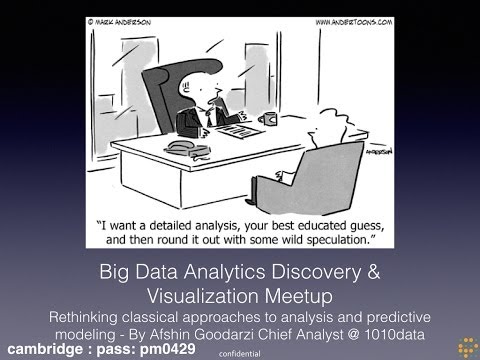 Rethinking classical approaches to analysis and predictive modeling
Subscribe to Youtube
[ QUOTE OF THE WEEK]
Data is not information, information is not knowledge, knowledge is not understanding, understanding is not wisdom. – Clifford Stoll
[ PODCAST OF THE WEEK]
Venu Vasudevan @VenuV62 (@ProcterGamble) on creating a rockstar data science team #FutureOfData #Podcast
Subscribe
[ FACT OF THE WEEK]
100 terabytes of data uploaded daily to Facebook.