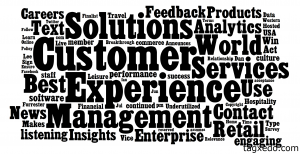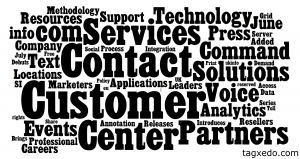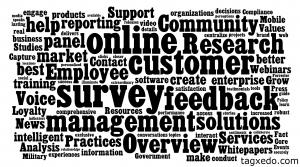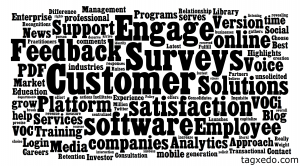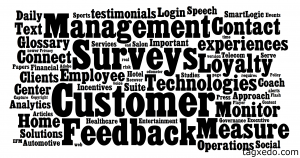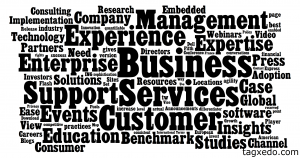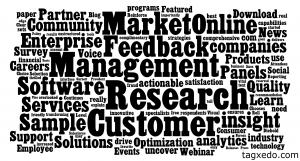 I recently wrote about the value of Enterprise Feedback Management vendors. EFM is the process of collecting, managing, analyzing and disseminating different sources (e.g., customers, employees, partners) of feedback.  EFM vendors help companies facilitate their customer experience management (CEM)  and voice of the customer (VoC) efforts, hoping to improve the customer experience and increase customer loyalty.  This week, I take a non-scientific approach to understanding the EFM space and wondered how EFM/CEM vendors try to differentiate themselves from each other.
Using a word cloud-generating site, tagxedo.com, I created word clouds for 7  EFM/CEM vendors based on content from their respective Web sites. Word clouds are used to visualize free form text. I generated word clouds by simply inputting that vendor's url into the tagxedo.com site (done on 7/15/2011 – prior to the announcement of the Vovici acquisition by Verint). I used the same tagxedo.com parameters when generating each vendor's word cloud. For each word cloud, I manually removed company/proper names and trademarked words (e.g., Net Promoter Score) that would easily identify the vendor. The resulting word clouds appear to the right (labeled Provider 1 thorugh 7). These word clouds represent the key words each vendor uses to convey their solutions to the world. The seven vendors I used in this exercise are (in alphabetical order):
Allegiance
Attensity
MarketTools
Medallia
Mindshare
Satmetrix
Vovici
Can you match the vendors to their word cloud? Can you even identify the vendor your company uses (given it's in the list, of course)? Answers to the word cloud matching exercise appear at the end of this post.
Before you read the answers, here is some help. It is clear that there is much similarity among these EFM vendors. They all do similar things; they use technology to capture, analyze and disseminate feedback. Beyond there core solutions, how do they try to differentiate themselves? Giving the word clouds the standard inter-ocular test (aka eye-balling the data), I noticed that, although "Customer" appears as a top word for all vendors, there are top words that are unique to a particular vendor:
Provider 1: Experience and Solutions
Provider 2: Contact, Center and Partners
Provider 3: Online
Provider 4: Engage and Software
Provider 5: Measure
Provider 6: Business
Provider 7: Market and Research
Maybe this differentiation, however subtle, can help you with the matching exercise. Let me know how you did. If you have thoughts on how EFM/CEM vendors can better differentiate themselves from the pack, please share your thoughts. More importantly, how can these vendors provide more value to their customers? One way is to help their clients integrate their technology solutions into their VoC program. Those EFM vendors who can do that will be more likely to succeed than those who simply want to sell technology as a solution (remember the CRM problem?).
—–
Answers to the EFM/CEM vendor word clouds: Â Medallia (Provider 1);Â Attensity (Provider 2);Â Vovici (Provider 3);Â Allegiance (Provider 4); Mindshare (Provider 5); Satmetrix (Provider 6);Â MarketTools (Provider 7)
Source: Know your Enterprise Feedback Management Provider by bobehayes