Democratizing Big Data refers to the growing movement of making products and services more accessible to other staffers, such as business analysts, along the lines of "self-service business intelligence" (BI).
In this case, the democratized solution is "the all-in-one Lavastorm Analytics Engineplatform," the Boston company said in an announcement today announcing product improvements. It "provides an easy-to-use, drag-and-drop data preparation environment to provide business analysts a self-serve predictive analytics solution that gives them more power and a step-by-step validation for their visualization tools."
It addresses one of the main challenges to successful Big Data deployments, as listed in study after study: lack of specialized talent.
"Business analysts typically encounter a host of core problems when trying to utilize predictive analytics," Lavastorm said. "They lack the necessary skills and training of data scientists to work in complex programming environments like R. Additionally, many existing BI tools are not tailored to enable self-service data assembly for business analysts to marry rich data sets with their essential business knowledge."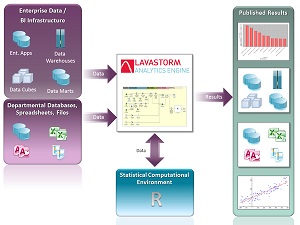 That affirmation has been confirmed many times. For example, a recent report by Capgemini Consulting, "Cracking the Data Conundrum: How Successful Companies Make Big Data Operational," says that lack of Big Data and analytics skills was reported by 25 percent of respondents as a key challenge to successful deployments. "The Big Data talent gap is something that organizations are increasingly coming face-to-face with," Capgemini said.
Other studies indicate they haven't been doing such a good job facing the issue, as the self-service BI promises remain unfulfilled.
Enterprises are trying many different approaches to solving the problem. Capgemini noted that some companies are investing more in training, while others try more unconventional techniques, such as partnering with other companies in employee exchange programs that share more skilled workers or teaming up with or outright acquiring startup Big Data companies to bring skills in-house.
Others, such as Altiscale Inc., offer Hadoop-as-a-Service solutions, or, like BlueData, provide self-service, on-premises private clouds with simplified analysis tools.
Lavastorm, meanwhile, uses the strategy of making the solutions simpler and easier to use. "Demand for advanced analytic capabilities from companies across the globe is growing exponentially, but data scientists or those with specialized backgrounds around predictive analytics are in short supply," said CEO Drew Rockwell. "Business analysts have a wealth of valuable data and valuable business knowledge, and with the Lavastorm Analytics Engine, are perfectly positioned to move beyond their current expertise in descriptive analytics to focus on the future, predicting what will happen, helping their companies compete and win on analytics."
The Lavastorm Analytics Engine comes in individual desktop editions or in server editions for use in larger workgroups or enterprise-wide.
New predictive analytics features added to the product as listed today by Lavastorm include:
Linear Regression: Calculate a line of best fit to estimate the values of a variable of interest.
Logistic Regression: Calculate probabilities of binary outcomes.
K-Means Clustering: Form a user-specified number of clusters out of data sets based on user-defined criteria.
Hierarchical Clustering: Form a user-specified number of clusters out of data sets by using an iterative process of cluster merging.
Decision Tree: Predict outcomes by identifying patterns from an existing data set.
These and other new features are available today, Lavastorm said, with more analytical component enhancements to the library on tap.
The company said its approach to democratizing predictive analytics gives business analysts drag-and-drop capabilities specifically designed to help them master predictive analytics.
"The addition of this capability within the Lavastorm Analytics Engine's visual, data flow-driven approach enables a fundamentally new method for authoring advanced analyses by providing a single shared canvas upon which users with complementary skill sets can collaborate to rapidly produce robust, trusted analytical applications," the company said.
About the Author-Â David Ramel is an editor and writer for 1105 Media.
Originally posted via "Lavastorm Democratizing Big Data Analytics in Face of Skills Shortage"