[ COVER OF THE WEEK ]

Accuracy check Source

[ LOCAL EVENTS & SESSIONS]
[ AnalyticsWeek BYTES]
>> Surviving the Internet of Things by v1shal
>> Map of US Hospitals and their Health Outcome Metrics by bobehayes
>> Eradicating Silos Forever with Linked Enterprise Data by jelaniharper
[ NEWS BYTES]
>>
The Importance of TSP Snapshot Statistics – FEDweek Under Statistics
>>
World's largest data center to be built in Arctic Circle – CNBC Under Data Center
>>
Hybrid cloud and blockchain solutions will be the future for data … – Information Age Under Hybrid Cloud
[ FEATURED COURSE]
[ FEATURED READ]
Data Science for Business: What You Need to Know about Data Mining and Data-Analytic Thinking
[ TIPS & TRICKS OF THE WEEK]
Finding a success in your data science ? Find a mentor
Yes, most of us dont feel a need but most of us really could use one. As most of data science professionals work in their own isolations, getting an unbiased perspective is not easy. Many times, it is also not easy to understand how the data science progression is going to be. Getting a network of mentors address these issues easily, it gives data professionals an outside perspective and unbiased ally. It's extremely important for successful data science professionals to build a mentor network and use it through their success.
[ DATA SCIENCE Q&A]
Q:What is statistical power?
A: * sensitivity of a binary hypothesis test
* Probability that the test correctly rejects the null hypothesis H0H0 when the alternative is true H1H1
* Ability of a test to detect an effect, if the effect actually exists
* Power=P(reject H0|H1istrue)
* As power increases, chances of Type II error (false negative) decrease
* Used in the design of experiments, to calculate the minimum sample size required so that one can reasonably detects an effect. i.e: 'how many times do I need to flip a coin to conclude it is biased?'
* Used to compare tests. Example: between a parametric and a non-parametric test of the same hypothesis

Source
[ VIDEO OF THE WEEK]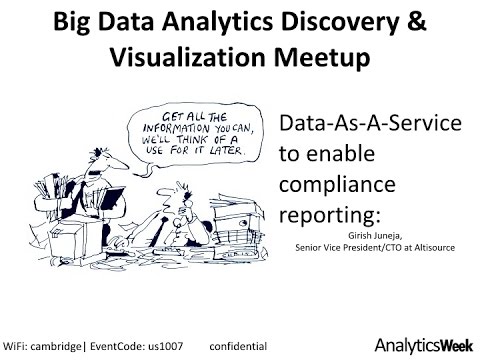 Data-As-A-Service (#DAAS) to enable compliance reporting
Subscribe to Youtube
[ QUOTE OF THE WEEK]
You can use all the quantitative data you can get, but you still have to distrust it and use your own intelligence and judgment. – Alvin Tof
[ PODCAST OF THE WEEK]
#BigData @AnalyticsWeek #FutureOfData #Podcast with @MPFlowersNYC, @enigma_data
Subscribe
[ FACT OF THE WEEK]
571 new websites are created every minute of the day.