[ COVER OF THE WEEK ]

Accuracy Source

[ AnalyticsWeek BYTES]
>> SAS Pushes Big Data, Analytics for Cybersecurity by analyticsweekpick
>> Four Use Cases for Healthcare Predictive Analytics, Big Data by analyticsweekpick
>> The Question to Ask Before Hiring a Data Scientist by michael-li
[ NEWS BYTES]
>>
Robin Systems' Container-Based Virtualization Platform for Applications – Virtualization Review Under Virtualization
>>
Research delivers insight into the global business analytics and enterprise software market forecast to 2022 – WhaTech Under Business Analytics
>>
Creating smart spaces: Five steps to transform your workplace with IoT – TechTarget (blog) Under IOT
[ FEATURED COURSE]
Deep Learning Prerequisites: The Numpy Stack in Python
[ FEATURED READ]
Research Design: Qualitative, Quantitative, and Mixed Methods Approaches, 4th Edition
[ TIPS & TRICKS OF THE WEEK]
Strong business case could save your project
Like anything in corporate culture, the project is oftentimes about the business, not the technology. With data analysis, the same type of thinking goes. It's not always about the technicality but about the business implications. Data science project success criteria should include project management success criteria as well. This will ensure smooth adoption, easy buy-ins, room for wins and co-operating stakeholders. So, a good data scientist should also possess some qualities of a good project manager.
[ DATA SCIENCE Q&A]
Q:Why is naive Bayes so bad? How would you improve a spam detection algorithm that uses naive Bayes?
A: Naïve: the features are assumed independent/uncorrelated
Assumption not feasible in many cases
Improvement: decorrelate features (covariance matrix into identity matrix)

Source
[ VIDEO OF THE WEEK]
#HumansOfSTEAM feat. Hussain Gadwal, Mechanical Designer via @STEAMTribe #STEM #STEAM
Subscribe to Youtube
[ QUOTE OF THE WEEK]
Everybody gets so much information all day long that they lose their common sense. – Gertrude Stein
[ PODCAST OF THE WEEK]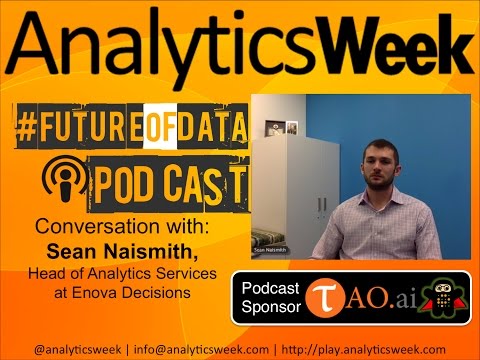 #FutureOfData Podcast: Conversation With Sean Naismith, Enova Decisions
Subscribe
[ FACT OF THE WEEK]
In late 2011, IDC Digital Universe published a report indicating that some 1.8 zettabytes of data will be created that year.