[ COVER OF THE WEEK ]

Human resource Source

[ AnalyticsWeek BYTES]
>> List of VC firms in Boston by v1shal
>> For the airline industry, big data is cleared for take-off by analyticsweekpick
>> THE FUTURE OF BIG DATA by analyticsweekpick
[ NEWS BYTES]
>>
Little data analytics – TechSpot Under Big Data Analytics
>>
The coal miner who became a data miner – May. 17, 2017 – CNNMoney Under Data Scientist
>>
The Amazon effect is hitting the apparel industry – CNBC Under Sales Analytics
[ FEATURED COURSE]
R, ggplot, and Simple Linear Regression
[ FEATURED READ]
Machine Learning With Random Forests And Decision Trees: A Visual Guide For Beginners
[ TIPS & TRICKS OF THE WEEK]
Data Analytics Success Starts with Empowerment
Being Data Driven is not as much of a tech challenge as it is an adoption challenge. Adoption has it's root in cultural DNA of any organization. Great data driven organizations rungs the data driven culture into the corporate DNA. A culture of connection, interactions, sharing and collaboration is what it takes to be data driven. Its about being empowered more than its about being educated.
[ DATA SCIENCE Q&A]
Q:What are the drawbacks of linear model? Are you familiar with alternatives (Lasso, ridge regression)?
A: * Assumption of linearity of the errors
* Can't be used for count outcomes, binary outcomes
* Can't vary model flexibility: overfitting problems
* Alternatives: see question 4 about regularization

Source
[ VIDEO OF THE WEEK]
#BigData @AnalyticsWeek #FutureOfData #Podcast with @MPFlowersNYC, @enigma_data
Subscribe to Youtube
[ QUOTE OF THE WEEK]
Everybody gets so much information all day long that they lose their common sense. – Gertrude Stein
[ PODCAST OF THE WEEK]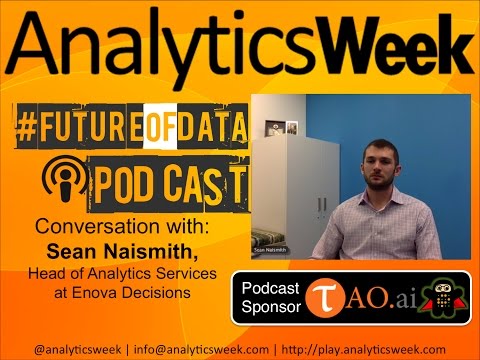 #FutureOfData Podcast: Conversation With Sean Naismith, Enova Decisions
Subscribe
[ FACT OF THE WEEK]
Poor data can cost businesses 20%–35% of their operating revenue.