[ COVER OF THE WEEK ]

Data interpretation Source

[ LOCAL EVENTS & SESSIONS]
[ AnalyticsWeek BYTES]
>> Improving the Value of Customer Experience Analytics by bobehayes
>> For the Bold, Bullied & Beautiful by v1shal
>> Big Data Provides Big Insights for U.S. Hospitals by bobehayes
[ NEWS BYTES]
>>
Streaming analytics market forecast for 2016 made available by top research firm – WhaTech Under Streaming Analytics
>>
Research details developments in the financial analytics global market analysis and forecast to 2021 – WhaTech Under Financial Analytics
>>
6 Questions Every CEO Should Ask About Their Data Security – Information Management Under Data Security
[ FEATURED COURSE]
[ FEATURED READ]
The Misbehavior of Markets: A Fractal View of Financial Turbulence
[ TIPS & TRICKS OF THE WEEK]
Grow at the speed of collaboration
A research by Cornerstone On Demand pointed out the need for better collaboration within workforce, and data analytics domain is no different. A rapidly changing and growing industry like data analytics is very difficult to catchup by isolated workforce. A good collaborative work-environment facilitate better flow of ideas, improved team dynamics, rapid learning, and increasing ability to cut through the noise. So, embrace collaborative team dynamics.
[ DATA SCIENCE JOB Q&A]
Q:What is the Central Limit Theorem? Explain it. Why is it important?
A: The CLT states that the arithmetic mean of a sufficiently large number of iterates of independent random variables will be approximately normally distributed regardless of the underlying distribution. i.e: the sampling distribution of the sample mean is normally distributed.
– Used in hypothesis testing
– Used for confidence intervals
– Random variables must be iid: independent and identically distributed
– Finite variance

Source
[ VIDEO OF THE WEEK]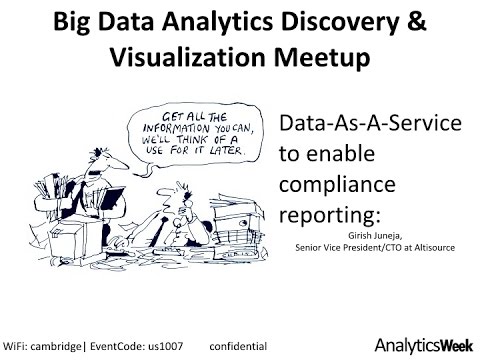 Data-As-A-Service (#DAAS) to enable compliance reporting
Subscribe to Youtube
[ QUOTE OF THE WEEK]
The world is one big data problem. – Andrew McAfee
[ PODCAST OF THE WEEK]
#GlobalBusiness at the speed of The #BigAnalytics
Subscribe
[ FACT OF THE WEEK]
A quarter of decision-makers surveyed predict that data volumes in their companies will rise by more than 60 per cent by the end of 2014, with the average of all respondents anticipating a growth of no less than 42 per cent.