[ COVER OF THE WEEK ]

Data Accuracy Source

[ LOCAL EVENTS & SESSIONS]
[ AnalyticsWeek BYTES]
>> Intel bets on real-time analytics with high-end processor refresh by anum
>> In a Word: The Customer Sentiment Index by bobehayes
>> Why Your Company Should Use Data Science to Make Better Decisions by anum
[ NEWS BYTES]
>>
Court grants stay in FTC data security complaint against LabMD – Health Data Management Under Data Security
>>
WWE Royal Rumble 1990 Match Time and Statistics – Cageside Seats (blog) Under Statistics
>>
Social Listening in 2017: The Next Frontier in Social Media – MarketingProfs.com (subscription) Under Sentiment Analysis
[ FEATURED COURSE]
[ FEATURED READ]
[ TIPS & TRICKS OF THE WEEK]
Fix the Culture, spread awareness to get awareness
Adoption of analytics tools and capabilities has not yet caught up to industry standards. Talent has always been the bottleneck towards achieving the comparative enterprise adoption. One of the primal reason is lack of understanding and knowledge within the stakeholders. To facilitate wider adoption, data analytics leaders, users, and community members needs to step up to create awareness within the organization. An aware organization goes a long way in helping get quick buy-ins and better funding which ultimately leads to faster adoption. So be the voice that you want to hear from leadership.
[ DATA SCIENCE JOB Q&A]
Q:Explain the difference between "long" and "wide" format data. Why would you use one or the other?
A: * Long: one column containing the values and another column listing the context of the value Fam_id year fam_inc
* Wide: each different variable in a separate column
Fam_id fam_inc96 fam_inc97 fam_inc98
Long Vs Wide:
– Data manipulations are much easier when data is in the wide format: summarize, filter
– Program requirements

Source
[ VIDEO OF THE WEEK]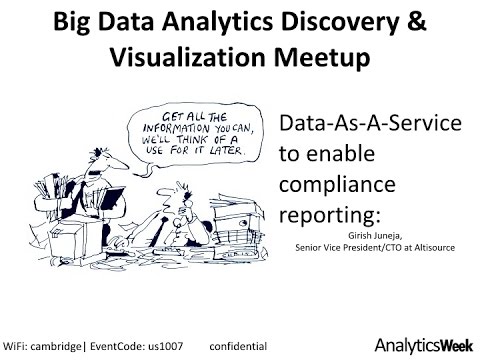 Data-As-A-Service (#DAAS) to enable compliance reporting
Subscribe to Youtube
[ QUOTE OF THE WEEK]
I keep saying that the sexy job in the next 10 years will be statisticians. And I'm not kidding. – Hal Varian
[ PODCAST OF THE WEEK]
#BigData @AnalyticsWeek #FutureOfData #Podcast with Dr. Nipa Basu, @DnBUS
Subscribe
[ FACT OF THE WEEK]
Every person in the US tweeting three tweets per minute for 26,976 years.